What can I do if I received an error in the Big Fish Games app?
Please note the error code number.
Click on the first number of the error code in the table below. Next, click the full error code for troubleshooting tips. 
Example
Here's an example of an error message that could appear in the Big Fish Games App (Game Manager).
Notice the error code 809.
You could find information about fixing the error by clicking on the number 8 in the table above, then clicking on Error 809.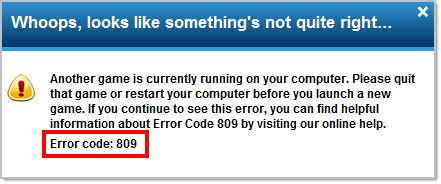 ---
1
---
2
---
3
---
5
---
6
---
7
---
8
---
9
---
P