Have a question about Game Club credits?
---
How do I use my Game Club credits?
Available Game Club credits will apply automatically when you add a standard version game to your shopping cart.
Collectors Editions require 2 credits. One credit cannot be used to partially discount a Collector's Edition. For more information about redeeming credits for Collector's Editions, please see the Using Game Club Credits for Collector's Editions help article.
A message saying Game Club Credit Applied will appear beneath the title of the game for which the credit(s) were used.
Game Club credits cannot be used on discounted games like the Daily Deal and Catch of the Week. Credits and discount coupon codes or Punch Card coupons cannot both be applied to the same game.
---
How often can I get Game Club credits?
Each month that you're a member of Big Fish Game Club, you'll automatically receive 1 credit on your billing date. Your payment method is charged $6.99 USD* for the membership and your billing date will remain the same day each month, unless you cancel.
To buy more pre-paid Game Club credits or send a gift certificate to your friends or family, visit your My Game Club page. You don't have to be an active Game Club member to use your credits.
*Or an equivalent price in the currency you choose.
---
Can I use Game Club credits during sales and promotions?
Yes, Game Club credits can be used during Game Bundle Sales and 2 For 1 Sales. When you use credits during these particular sales, they will apply automatically, just like normal. You can then apply a coupon code to discount the other games in your cart.
Credits do not work for other types of sales and promotions. If you wish to use a Game Club credit instead of participating in a certain promotion, you may remove the coupon code from your cart by clicking the "X" next to the code, allowing the credit to apply.
---
How do I use a credit to buy a game from the trial version?
Open the Big Fish Games app.
Click the Buy button next to the game you'd like to purchase.
The game will be added to your shopping cart in the Big Fish Games app, and your Game Club credits will automatically apply.

To purchase a Collector's Edition, you will need to have 2 available Game Club credits.

Confirm your payment information and click Place Order to buy your game.
---
What happens to my credits if I cancel my Game Club membership?
Even though your account will remain active, any remaining Game Club credits will expire one 180 days from the effective date of your most recent membership cancellation. If your membership is reactivated before the expiration date, the credits will no longer be set to expire. If you cancel again, the period of 180 days will be reset, starting on the date of this most recent cancellation.
Once your Game Club membership is canceled (effective on the last day of your monthly billing cycle), the My Game Club page of your account will be updated with the expiration date of your Game Club credits. If you decide to reactivate your membership before the expiration date, the expiration date will be removed. If you then cancel your membership again, a new 180 day credit expiration period will begin.
---
How do I purchase gift certificates with my credits?
To purchase a gift certificate with your credit, just visit your My Game Club page and click the Start Gifting button. You can also click the button below: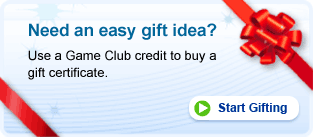 In exchange for your credit, you'll be able to send a gift certificate to a friend or family member. Best of all, gift certificates don't expire, so you can even send one to yourself if you've canceled your membership and don't think you can use up all your credits before they expire.
---
Can I redeem Game Club credits for Android, iPhone, iPad, and iPod games?
No, Game Club credits and coupon codes cannot be used for games on Android, iPhone, iPad, or iPod devices.
These games must be purchased through the Google Play Store (Android) or Apple's iTunes App Store (iPhone/iPad/iPod). Since the Big Fish purchasing system is not used, Game Club credits and coupon codes cannot be applied.