Need help with Casino?
Visit our Big Fish Casino Help Center to get the information you need!
How do I play the Online Games?
Online Games are available for free on our site. These games are playable through your web browser and you can access them by selecting the Online Games tab.
My online game won't load or play. What can I do to fix this?
If you're unable to load or play Online Games, follow the suggestions below to make adjustments to your browser and display settings.
Clear cache, cookies, and browsing history
Sometimes, a web browser may not load parts of a webpage because it can't properly process the information that it has stored for that page. Most of the time, simply clearing the browser's cache and cookies will resolve the problem.
First, make sure that you're using the latest version of Mozilla Firefox, Microsoft Internet Explorer, or Google Chrome. (A very limited selection of online games will only play using Internet Explorer and may also require an Active X plug-in issued by the game's developer.)
Next, select your browser from the list below and follow the instructions to delete your cache and cookies:
Internet Explorer
Click Tools at the top of your browser window.
If the Tools menu is hidden, press the Alt key on your keyboard to make it appear.
Select Delete browsing history...
Un-check the box next to Preserve Favorites website data.
Make sure Temporary Internet Files and website files, Cookies and website data, and History are checked.
Click Delete.
Restart Internet Explorer.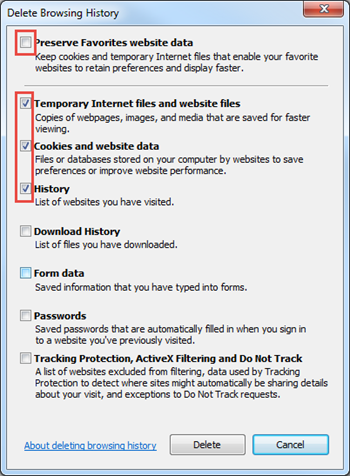 Mozilla Firefox
Select the Tools menu at the top of your browser window.
If you're using Firefox 4, the Tools menu may be hidden. Press the Alt key on your keyboard and it will appear.
Select Clear Recent History.
Check Browsing & Download History, Cookies, and Cache.
Click Clear Now.
Restart Firefox.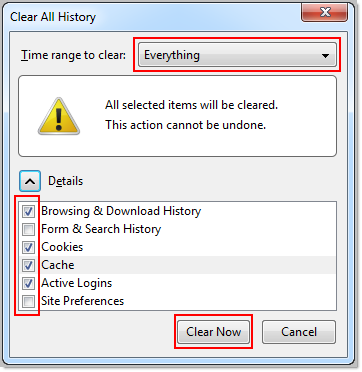 Google Chrome
While in the Chrome browser, hold down the Ctrl and Shift keys on the keyboard, and press the Delete key.
Check Clear browsing history, Clear download history, Empty the cache, and Delete cookies and other site data.
Make sure that the Clear data from this period: dropdown menu says the beginning of time.
Click the Clear browsing data button.
Restart Chrome.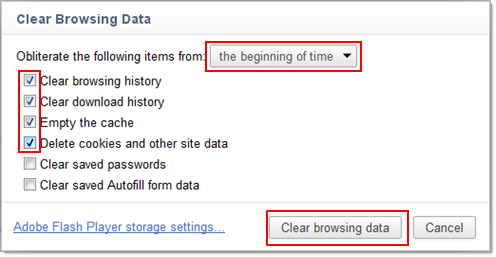 Safari (Mac)
Click the Safari menu in the top left of the browser, then select Reset Safari.
Make sure that only the following are checked:
Clear history
Empty the cache
Clear the Downloads window
Remove all cookies
Click the Reset button.
Restart Safari.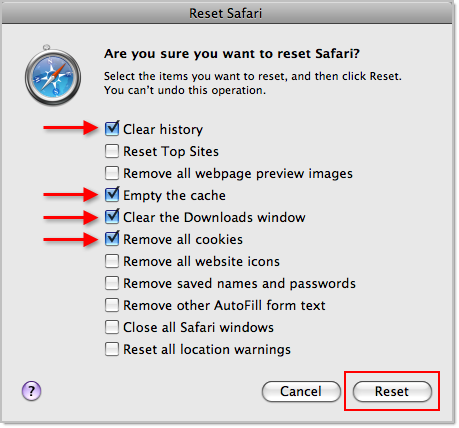 Adjust your display settings
Reinstall Adobe Flash Player:
Download and run the Adobe Flash Player uninstaller.
Download and run the Adobe Flash Player installer.
See our Enable JavaScript help article if you currently have JavaScript disabled and received an error message while trying to start an online game.
Which web browsers are compatible with online games?
For an overview of the recommended web browsers for playing online games, and making the most of our site, please see the Supported Web Browsers help article.